Getting married next year? Here are some ideas.
The flowers are budding, the weather is warming up, and the Easter Bunny is making an early appearance, but if you're having a spring wedding, the arrival of this glorious season could be giving you the jitters.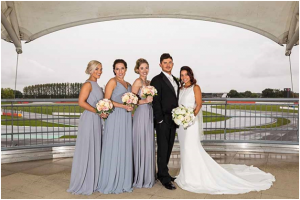 Take a look at some ideas for surviving the countdown to your big day while enjoying the view along the way!
Embrace the season
Adding springtime touches will bring a smile to everyone's faces. From pretty pastel colours to a sweet daisy theme, a few subtle springtime hints will tie it all together. The BBC series Springwatch has some seasonal ideas.
Theme the whole thing
Quirky is very in. Why not focus on something that you both love. For example, the couple above were massive Formula one fan and they had theirs at Silverstone. Combine it with some F1 Hospitality by joining the f1 paddock club from edge global and you have a great mix.
Go vintage
Embrace the trend for vintage wedding ideas or shabby chic details. From the quaintest touches of afternoon tea to pretty floral patterns, these would put a spring in anyone's step.
Floral favors
Why not consider a springtime theme with local honey pots, pressed flowers or seeds? Discover nature's spring gifts on the RSPB website.
Spring into action
The changing of the season is a stark reminder of how quickly your big day is approaching.. Here is our ultimate checklist for last-minute touches that will bring a zing:
Table decorations
You might have your name cards, menus, and seating plans ready, but you can add touches to your table designs and place settings. Sprinkle the tables with dried pastel petals, infuse the room with the sweet scents of spring flowers, or liven up the table numbers with delicate daisy chains.
Get the message
The invitations went out some time ago but get ahead of the game with your thank you cards. Start pressing wildflowers or stock up on pastel tissue paper to keep the spring theme blooming.
Guest book
There are many ways you can get friends and family to commit their best wishes to eternity. From fingerprint artwork to sketches on petals, it's a great chance to get creative.
Candid camera
You'll be far too busy on the day to give the photographer too much direction, but why not give your photos a quick thought to make sure they get the shot you're angling for? Head down to the venue to scope out some pretty backdrops. The new season may offer unique photo opportunities you hadn't considered before, from new ducklings to beautiful branches of confetti blossom.