Tips to looking your Best in Wedding Photos
Your wedding day is the happiest of your life and the day when every bride wants to look her absolute best. It's the end of months of preparation usually – speculation about the hair, the make-up, the flowers and more – and all eyes will be on the bride. So the pressure is on!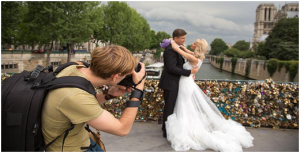 There are some things you can do yourself to help look your best which will help you relax, and that alone will make you look better.
Nail It
Your friends and relatives will be looking at your ring all day, so don't neglect your fingers. Whether you choose a classic French polish or go bold and make your nails your 'something blue', having the detail on your fingers is a big step to looking your best.
Vogue goes into more detail about make-up tips to make you look and feel million dollars.
Picture This
Once you've sorted hair and make-up – and it's a good idea to have a 'dry run' first – chat to your photographer. An experienced photographer will be able to advise on the best ways to stand for your height and shape to be the most flattering for you and your bridal party.
The photographer will also help with the best location at your Gloucestershire Hotel Wedding Venue which you could check out at sites like www.hatton-court.co.uk/gloucester-cotswolds-weddings and will have all the lighting and posing tricks to work their magic. As a start, hold your bouquet at your hip: it stops you hiding behind your flowers, but also gives you a more flattering shape as your arm is slightly bent and held away from your body. That gap elongates your arm and defines your waist.
Say Cheese
Not cheese exactly, but practise smiling. You'll be photographed a lot on the day by your official photographer and also by your friends and relatives too. Smiling can get exhausting! Smiling with your eyes is one way to save your cheeks, but engaging with the camera to look authentic can take a bit of getting used to. Getting your teeth whitened professionally if you are able will also help your confidence.
Your best photos will come when you're not over-thinking it, which is why many brides favour the reportage-style of photography these days, so try to forget the cameras are there and enjoy the day.