Creating the perfect teenage bedroom
Decorating a teenager's room can prove to be more difficult than it sounds. Teenagers can be difficult for customers. This is a transition period where they may still want to hold on to the comfort of some aspects of a 'kiddie' room, but also want to be mature and independent. It's important to see the room from their perspective. For a teenager, their room is more than just a place to sleep – it's a place where they hang out, relax, break from the rules, express themselves, and be with friends.
Remember that their room must be an expression of who they are. With careful planning, even the most bizarre and discordant ideas can come together beautifully.
Today's teens have their fingers on the pulse and are far more aware of fashion and design elements. Think of their room as a mini apartment where they can spend time comfortably and also have all the functions they need from the space, such as space for homework, etc.
Just because an adult likes a bedroom that offers quiet serenity, a teenager tends to want the opposite and chooses an energy-filled and cheerful decor. Here are some ideas to keep in mind when designing decorations: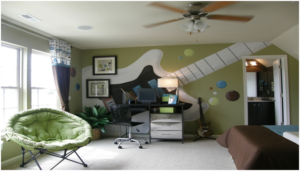 Functional
Apart from being passionate and fun, the room must offer many uses. Teenage rooms are more than just a place to sleep, they need to provide space to study, relax with friends and hang out. Try to work together creatively to plan separate areas for sleeping, studying and relaxing. Small spaces can still be made very effective with the use of bedroom furniture and smart storage ideas.
Be brave on the walls
Bright colours and funky designs are usually what teenagers want for their decorations. The biggest space in a room is a wall, so use this as an opportunity to be creative with colours, wall decals, special prints, graffiti wall treatments, and neon signage, for example.
Another fun idea
Teenagers mostly want spaces that reflect their personalities, and this usually involves fun and creativity. When surveyed, teens choose creativity as the most important and peaceful as the least important. Some fun ideas include:
Swing or unique chairs like the fun and quirky Egg Chair from Pash Classics.
Hammock
Circular bed
Aquarium mounted on the wall
Blackboard wall
Many variations of textures and fine fabrics such as fake fur rugs,
pillows, velvet wallpapers, and luxurious beds.
Storage
Teenagers are not known for their neatness or organization, so a smart storage solution is a must for every teen's room. They won't think they need it, but you will! Having storage options that can be accessed quickly and easily means your teen is more likely to keep things neat. Ideas include:
Unique shelf
Storage for under the bed
Stool or back with built-in storage
Wall cabinets around the bed
If you try to make storage as fun and creative as other elements of the room, they are more likely to use it. The ideal youth room can be created by combining elements of your teen's unique personality and the functions they need.