Enjoy Your Conservatory All Year Round
Many of us use our conservatories as an extra family room – but only during the warmer months. Problems with heating these glazed spaces mean they can be decidedly chilly when temperatures drop. Luckily there are a number of ways you can make your conservatory warm and welcoming all year round, including solar inserts and heating options.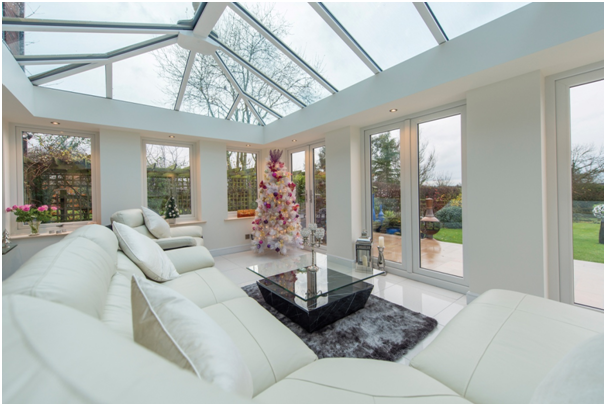 Underfloor Heating
Although a more expensive option than the others on our list, this is an extremely effective way to heat your conservatory during the colder months, especially when combined with inserts. Underfloor heating is a gentle and effective way to heat a conservatory and ensure heat is evenly distributed.
Use Properly Fitting Blinds
While you might favor the appearance of lightweight blinds in the summer, don't under-estimate the effect of heavier window coverings in the winter. Blinds can help reduce heat loss through the glass and can create a cozy, warm living space during the colder months.
Insulate Walls or Roofs
By installing solar inserts by Polycool or another manufacturer, you can help insulate your conservatory and stop heat escaping through the glass. Not only can this help keep your conservatory warm, but it can also help to reduce your energy bills. The inserts can be applied quickly and easily and have the added advantage of keeping your conservatory cool in the strong summer sunshine.
Think About Location
Conservatories are usually located at the rear of our homes, but if you are lucky enough to have a bit of space to play with, choosing the optimum location for your conservatory can make all the difference to comfort levels. As the Express and Star point out, north-facing conservatories can be extremely cold so if you want a room that's comfortable all year round and can avoid this, do so.
Add Creature Comforts
Accessorize your conservatory differently during summer and winter so it's comfortable in all weathers. You might favor a pared-back, minimalist look during summer, but add soft furnishings and textiles during winter to create a warm, cozy environment. Lay throws and blankets over the backs of chairs, and invest in some sumptuous cushions to scatter around. You'll be amazed at the difference soft, fluffy textiles can make, and they'll not only keep you warm but will make your conservatory look more welcoming too.